Lyrics - Irmã Benigna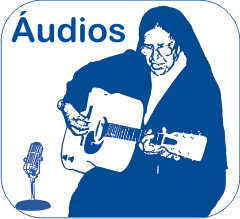 Irmã Benigna, rogai por nós.
Serva de Deus, nossa esperança.
Irmã Benigna, vida de cura.
Serviu a Deus em cada irmão.
Irmã Benigna, Salve Rainha!
Irmã Benigna, verdade, amor.
Salve Rainha, mãe de Deus, misericórdia e vida.
Salve a nossa esperança, salve, Irmã Benigna.
Rogai, oh santa mãe de Deus, rogai por vossos filhos.
Historic
IRMÃ BENIGNA is a song especially composed for the Association of Friends of Sister Benigna (Associação dos Amigos de Irmã Benigna) – AMAIBEN, inspired in songs from the colonial period of Minas Gerais, particularly in the songs of the composer JOSÉ JOAQUIM EMERICO LOBO DE MESQUITA. The piece THEME SONG of AMAIBEN, composed by ANA BEATRIZ LUCAS DOS SANTOS appears twice in this song.
The song IRMÃ BENIGNA was composed in six parts:
ANDANTINO: Theme song of AMAIBEN: French Horn solo (CORNO)
ALLEGRO: Flute, horn, strings.
ANDANTINO: Voice Trio: contralto and tenor
ANDANTINO: Theme song of AMAIBEN: flute solo
ALLEGRO: Flute, strings and French horn.
ANDANTE: Continuous French horn solo and contralto solo.
PARTAKING MUSICIANS:
Maria Teresa Barbosa: voice of first contralto solo and second contralto.
Alexandre Lsboa: French horn
Elmo Sepúlveda: composition, ensembles, NEW VOICE GUO flute, tenor voice.
"QUARTETO GERAIS":
Rafael Marcenes: first violin
Andre Taciano: second violin
Marcos Reis: viola
Geter Fernandes: cello
RECORDING:
ESTUDIO 10, located in Belo Horizonte, on June 24 2012.
Mixing: Leonardo Barcellos
Back